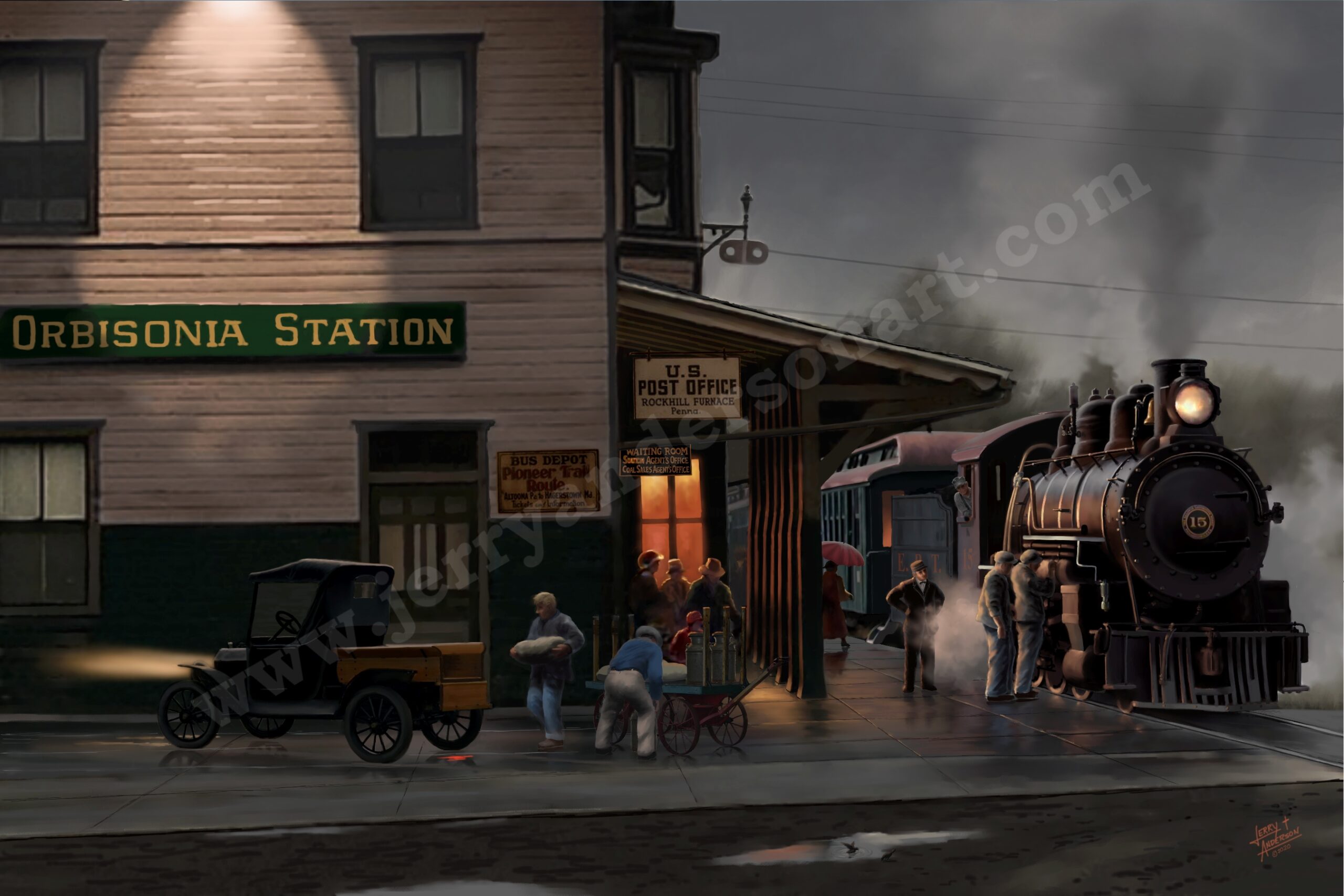 In our last blog post, Jerry detailed how he found himself branching out from aviation art to railroad art, exploring the East Broad Top Railroad in Orbisonia/Rockhill Furnace, PA.
What an adventure it has been!
Picking up our story where we left off, Jerry "coincidentally" met Bennett Levin who is part of a committee revitalizing the East Broad Top Railroad or EBT. Bennett discovered that Jerry was an artist and so a partnership was born.
As Jerry planned his first trip to Orbisonia he happened to post about the railroad on Facebook, where one of his hometown friends, Brian, saw his post and reached out. Brian, his wife, and their son love trolleys and told us they regularly visit the Rockhill Trolley Museum, located on the EBT property!
We soon learned that the EBT was itself a very unique and significant place. The late William Withun, long-time transportation curator at the Smithsonian National Museum of American History, described the East Broad Top as an "incomparable national treasure…Nowhere in North America does such a complete and original industrial historic site exist." Similarly, the National Park Service had designated the East Broad Top as a National Historic Landmark, and documented many of its notable features via the Historic American Engineering Record.
Since then we have stayed in touch with Bennett, and developed some images of the EBT. The emphasis is not to show the railroad during the tourist era, as many photos and videos exist of that period. Instead, we want to depict it during the time that it was a vital part of the local economy from its inception in 1873 to when it closed in 1956. This means artwork that resurrects steam locomotives, various types of rail cars, buildings, bridges, vehicles, and other aspects of the environment that have not existed for decades, in an effort to bring that time period alive again. Determining the color of buildings (most of which now exist only in grainy, black-and-white photos), keeping track of when bridges were in certain configurations (as they often changed after the previous one was damaged or destroyed by flooding), as well as various modifications and dates of operation of the roster of locomotives and the upgrading of coal cars and other equipment, can be a challenge. But the research has been interesting, and the more Jerry has learned, the more fun it has become. We also want to emphasize the human element, the workers and others who made the EBT run and the local community who lived in the small towns serviced by the railroad, rather than just do pictures of trains. Jerry's years in the airline industry taught him that the equipment might be cool, but it is worthless without the efforts and dedication of the employees who make things move.
Jerry and his wife have visited the EBT facilities several times (it is not far from where she was born and raised), and found a very energetic community of volunteers whose enthusiasm is obvious. There is also an active Facebook group. Our future plans include paintings and prints, a possible coffee-table book that Mr. Levin has in mind, some ideas for a children's book along the lines of "Polar Express", and whatever else anyone can come up with. Jerry is not sure if he will do much railroad art outside of this and others in Pennsylvania, but it is a fun challenge to his artistic skills as well as an interesting historical subject that is not far from where we live.
We also discovered the Rockhill Trolley Museum, an excellent museum co-located with the EBT and run by an enthusiastic group of volunteers. Numerous joint events are held throughout the year in this quiet little town nestled in rural Pennsylvania.
*Note from Jerry's wife, Sheri:
As a former homeschooling mama, the East Broad Top railroad and the Rockhill Trolley Museum both are fantastic opportunities for field trips! Jerry and I have visited both locations several times and have found the volunteers absolute treasure-troves of information. They are ready to patiently answer any questions and will graciously show you any projects they're working on. When the property shut down railroad operations in 1956, the employees assumed they would be returning to work in a few weeks, so they cleaned their tools and walked away, never to return. The facility operated as a tourist business from 1960-2011. The EBT is essentially a time capsule, and is the only intact narrow guage facility east of the Mississippi.
The entire complex straddles route 994 (a two lane road) and there are gift shops to explore at both locations, making everything within walking distance.
Do your research before going. Plan your trip during special events if possible, but we have found that volunteers are at the trolley museum every weekend throughout the year, even if nothing is happening at the EBT. But we DO encourage planning your trip on tour days!
Be sure to visit Walker's Homestead Goods across the street at 323 Meadow St, Rockhill Furnace, PA. And we HIGHLY recommend having lunch or dinner at the Pizza Star & Restaurant less than a mile away at 509 Ridgley St, Orbisonia, PA.
For much more in-depth information on this unique facility, I would encourage anyone with even a passing interest in such things to visit the following resources listed below.
East Broad Top Railroad:
https://www.facebook.com/groups/123193174881872
https://www.facebook.com/ebtrr

Rockhill Trolley Museum
https://www.facebook.com/rockhilltrolley
To visit our Railroad Art category page, click HERE.