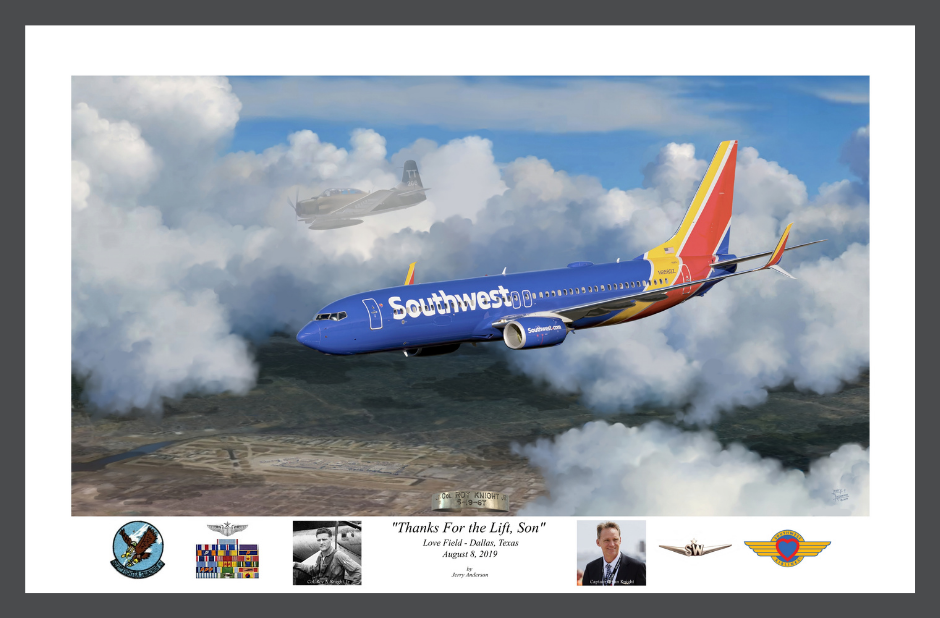 On August 8, 2019, a unique and poignant event took place at Dallas Love Field in Dallas, TX. Southwest Airlines Capt. Bryan Knight, flying Flt. 1220, landed at DAL with a special cargo on his aircraft: the remains of his father, whom he'd last seen 52 years before.
In January of 1967, 5 year-old Bryan and his mother traveled to that very same airport to say goodbye to his father, Lt. Col. Roy A. Knight, as he departed for duty in Southeast Asia. It would be that last time they would see him. After flying many combat missions with the 602nd Fighter Squadron (Commando) at Udorn Royal Thai Air Force Base, Lt. Col. Knight's A-1E Skyraider was shot down on a mission over Laos on May 19. Due to the remote and rugged terrain, his body was not recovered. Knight was initially listed as "missing in action", but was officially declared killed in action in 1974.
Bryan would go on to follow in his father's footsteps, becoming an Air Force fighter pilot as well, flying the F-117 Nighthawk ("stealth" fighter) among other types. He eventually retired from the military and embarked on a second career as a pilot for Southwest. Throughout his life and career, his father's spirit was never far from his mind.
In February 2019, Capt. Knight was informed that his father's remains had been recovered and positively identified by the Defense POW/MIA Accounting Agency. Arrangements were made to transport him back to the United States, and then to Dallas for final burial, and Bryan was given the unique opportunity to fly his father home to the same airport where he had last seen him as a small boy.
When I saw video of the event on social media, I was moved emotionally, as I'm sure were many others who saw the story unfold. As an artist, an image immediately formed in my mind, and I sat down at the computer and put it together over the next couple of days. When it was finished, I figured there was no reason to just keep it to myself, so I contacted the Southwest Pilots' Association, with whom I have done art business for a number of years. When I told them I wanted to send Bryan a print of my picture, they were happy to provide his address.
I included a quick note in the shipping tube with the print, just to tell Bryan my inspiration for doing the picture. A few days after I mailed the print, my phone rang; it was Bryan expressing his surprise and appreciation for the picture. We talked for a while, and he requested a couple of extra copies for his brother and sister. Then we discovered that, by happy circumstance, that he lives in Florida not far from the Spruce Creek fly-in community where we would be visiting friends in just a few weeks. He said he and his wife Charis would fly up in the RV-8 aircraft that he built so we could meet in person.
All went according to plan, and I was able to meet with them and visit for a while. They are two of the nicest people you would ever want to meet, and it was a pleasure and a privilege on my part to play a very small role in this amazing story.
Below is a video about the story entitled Southwest Captain brings his Dad (Col. Roy Knight) back home! posted by VASAviation.