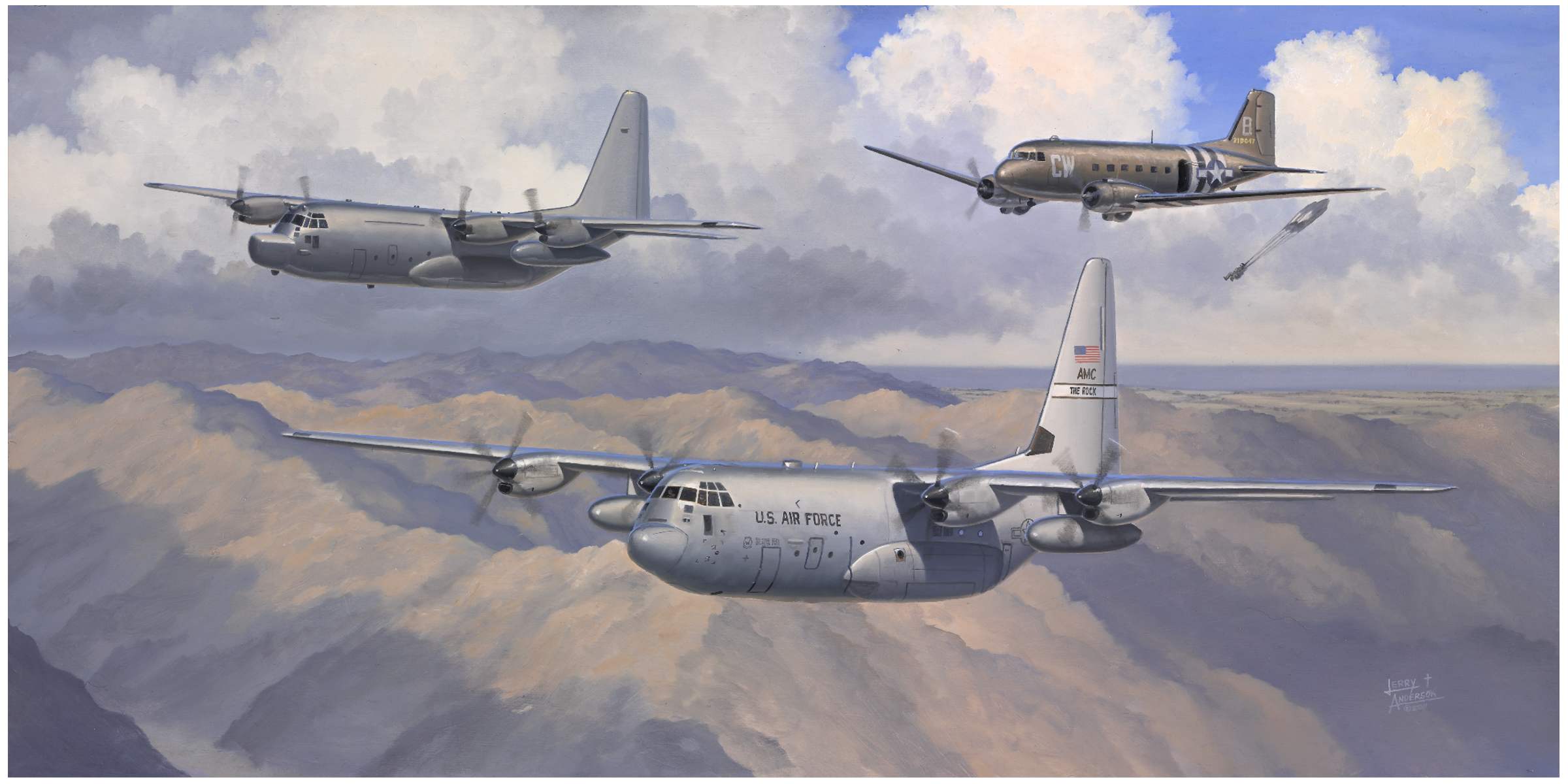 This painting was the result of a request from a client (we'll call her Brittney) who wanted to present it as a gift for her fiancé upon his return from service in Afghanistan. It is a unique family heritage montage, depicting three generations of military service, divided among four individuals. 
Brittney's fiancé was serving in Afghanistan as a pilot of a C-130J Super Hercules, shown in the foreground.
The C-47 in the upper right represents Brittney's maternal grandfather, a young Army Air Corps pilot during the D-Day invasion in France on June 6, 1944. Prior to his deployment to Europe, this young man found out his girlfriend was pregnant. Upon his return from the war more than a year later, he attempted to contact his girlfriend, only to be told by her mother that she had run away from home and could not be contacted. In reality, she had been sent to a home for unwed mothers, where she gave birth to a daughter who was immediately put up for adoption. The young pilot never saw his girlfriend again, nor ever met his daughter.
When the adopted child from that relationship grew up, she married an Air Force pilot who flew the MC-130H Combat Talon II (depicted in the upper left of the painting) during the Vietnam War era. This marriage produced a daughter, our client Brittney.
This image depicts three generations of pilots, connected by way of a daughter and granddaughter, across a span of 60 years and three different conflicts.
And as an additional tribute, Brittany wanted to honor her paternal grandfather, who was a paratrooper who jumped from a C-47 into France on D-Day. He is represented by the paratrooper jumping out of the plane in the upper right.
All in all, a very unique and inspiring painting!